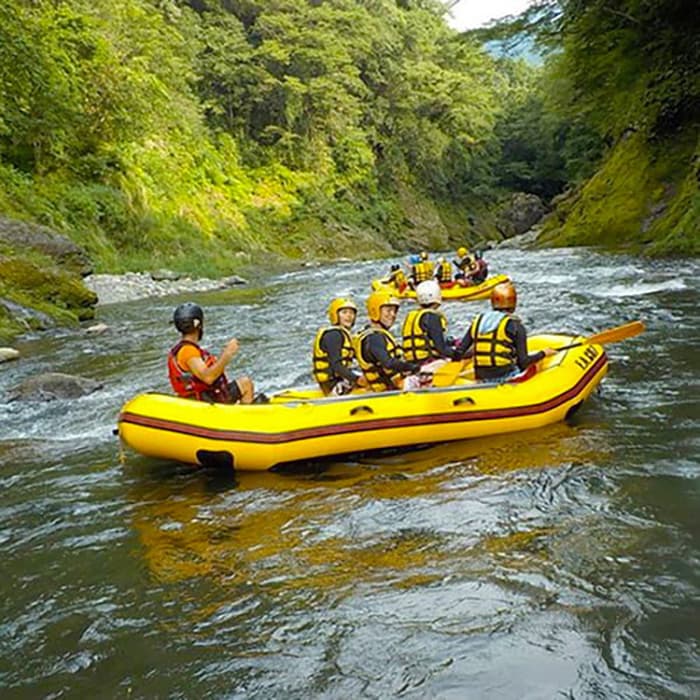 Fujiyama Adventure Club
Rafting has up to eight people ride a rubber raft and paddle together to clear whitewater sections of the river, making it a natural amusement ride. Come and enjoy the thrill of navigating narrow ravines and taking in the beauty of the Katsura River and its surroundings.
AREA

Otsuki

FEES

Half-day Katsura River rafting (3.5 hours): ¥5,800–¥8,000 (includes tax and insurance fees)

PHONE NUMBER

ADDRESS

425 Miyatani Tomihamamachi, Otsuki City, Yamanashi Prefecture

ACCESS

Shuttle bus pickup available (requires reservation)
The Fujiyama Adventure Club's base is located a 5-minute drive from Torisawa Station on the Chuo Line.
Please contact them the day prior to your visit and they will pick you up.

BUSINESS HOURS·DAYS CLOSED

From 9:00 or 13:30

RELATED SITE URL
Reservation cancellations/changes
If you choose to cancel your reservation, it will incur the following fees:
10 days before: no charge
9 to 3 days before: 30% charge
2 to 1 day before: 50% charge
Day of: 100% charge
If only changing the day of your reservation, there is no charge as long as it is at least 7 days in advance.